About Flinn Taekwondo Academy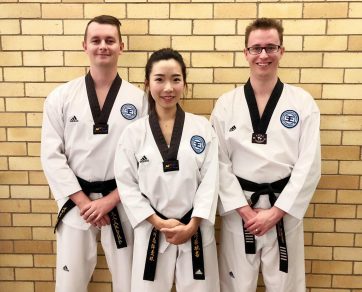 Flinn Taekwondo Academy, a North Brisbane Specialist Taekwondo School has been offering Taekwondo & Self Defence classes for over 20 Years. Managed by Benjamin Flinn, Josh Flinn, and Yu-Shu Flinn, our coaches have over 60 years combined experience in Taekwondo. Our experienced instructors have coached many students to local, state, national and international competitions, whilst also competing ourselves in competitions of all levels.
We teach all aspects of Taekwondo as a Marital Art. This includes children, women and adult self defence classes, children and adult fitness classes and traditional martial arts classes. We also have a specialised interest in the sport side of Taekwondo which includes, Competition Kyrougi (Sparring/Fighting) Competition Poomsae and Competition Freestyle Events. With multiple students being state, national and international competitors, our coaches are completely qualified with Australian Taekwondo and The Oceania Taekwondo Union (World Taekwondo).
Our Latest News
I would like to congratulate all participating athletes in Canberra this weekend. A total of…

We would like to congratulate Matthew Shane Taylor & Sophee ODea for their efforts at…

2018 NATIONAL CHAMPIONSHIPS 6 GOLD, 5 SILVER, 3 BRONZE I would like to congratulate all…